**Registration for the 2020 FDRS Virtual Conference is now LIVE**
The Food Distribution Research Society annual conference is going virtual!
Due to the COVID-19 pandemic, the FDRS will host a virtual conference on Tuesday, October 13th from 11:00 AM – 4:30 PM EDT. The conference theme is: Food supply chain resilience and COVID-19. See conference schedule below!
The fee for the conference is $50 for academics and professionals and $25 for students. By paying this fee, you will have access to the online conference, recorded keynotes, presentations, and a 1-year complementary FDRS membership.
The windows for abstract submissions and 2020 Student Food Marketing Challenge team sign-ups are now closed.
Conference Schedule (all times in Eastern Daylight Time, or UTC-04:00)
Day 1 – Monday, October 12
12-2 PM: FDRS Board Meeting
Day 2 – Tuesday, October 13
11-11.15 AM: Introduction and conference guidelines
11.15 AM-12 PM: Keynote I – Tricia Kovacs, Deputy Administrator, USDA Agricultural Marketing Service, Washington D.C.
Tricia Kovacs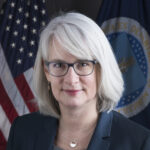 is the Deputy Administrator for Transportation and Marketing in USDA's Agricultural Marketing Service, a role she took on just this year. She leads AMS grant programs, a research and data team focused on transportation of agricultural products from farm to market, a research and development team focused on local and regional food systems, and the USDA Farmers Market, a living laboratory for farmers market best practices. Tricia came to USDA in 2016 as local and regional food systems policy advisor in the USDA Agricultural Marketing Service Administrator's Office.  In that role, she coordinated efforts across USDA to support the local and regional food sector. Prior to joining USDA, Tricia managed Regional Markets programs at Washington State Department of Agriculture, where she was founding Program Manager for the state Farm to School Program and also led the Small Farm Direct Marketing Program. Tricia was lead author on publications that help farmers and buyers understand complex market requirements, including Bridging the GAPs Farm Guide: Good Agricultural Practices and On-Farm Food Safety for Small, Mid-Sized and Diversified Fruit and Vegetable Farms, and A School's Guide to Buying Washington-Grown Food. Tricia holds a M.Sc. in Sustainability, Planning, and Environmental Policy from Cardiff University in Wales and a BA from University of Virginia. Originally from rural Appalachian Virginia, she lives with her husband and two children in Washington D.C.
12-12.05 PM: Break
12.05-12.50 PM: Keynote II – Cortney Cowley, Economist, Oklahoma City Branch Federal Reserve Bank of Kansas City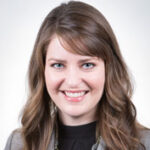 Cortney Cowley is an agricultural economist at the Oklahoma City Branch of the Federal Reserve Bank of Kansas City. In this role, she supports the Federal Reserve Bank of Kansas City and the Federal Reserve System efforts surrounding agricultural economics research, analysis and outreach.
Cortney conducts research on issues related to the farm economy, agricultural finance, and natural resources. She is a contributor to the Bank's Economic Review research journal, the Tenth District Survey of Agricultural Credit Conditions and the Agricultural Finance Databook. Cortney provides regular updates on the agricultural economy for the public, and for the Kansas City Fed's president – a member of the Federal Open Market Committee.
Cortney joined the Bank in 2015 after completing her Ph.D. in Agricultural Economics at Oklahoma State University. She also holds a B.S. degree in Biosystems Engineering from Oklahoma State and a M.S. degree in Civil Engineering from Colorado State University.
12.50-1.00 PM: Break
1:00-1.15 PM: FDRS Award Presentations – Research, journal, service, and student case
1.15-1.30 PM: Richardson-Applebaum Award Winner Presentation
1.30-1.50 PM: Break – Enter concurrent session rooms
1.50-2.50 PM: Concurrent Research Session I
2.50-3.10 PM: Break – Enter concurrent session rooms
3.10-4.10 PM: Concurrent Research Session II
4.10-4.20 PM: Concluding conference comments