We are the Food Distribution Research Society, Inc.
In these changing times, it is critical that academia, government, and industry continue to work together in food distribution to foster the industry growth. Food Distribution Research Society (FDRS) is the only body of scholars and practitioners in the United States dedicated to the study, monitoring and sharing of knowledge about the dramatic changes that are taking place in the global food system.
Check back in Summer 2021 for info about our Dallas, TX conference!
A Message From Our President Dr. Karina Gallardo
Greetings colleagues of the Food Distribution Research Society (FDRS). 2020 is an exciting year as it marks the 50th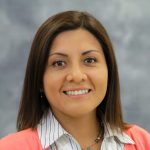 anniversary of our Society. It was February 20, 1970 when the FDRS was officially incorporated as a non-profit educational organization. The goal was to enhance long term liaisons across academia, industry, and government. Through all these years the FDRS has grown into a strong society that systematically offers a forum for exchange of ideas and information on food distribution research and education. Through the Journal of Food Distribution Research and our Annual Meetings that include an exciting Student Marketing Challenge our society has been committed to the goals initially envisioned by our founders: applied research, problem definition, coordination, foster implementation of results, and assure feedback between researchers and users of results.
The past year we achieved several accomplishments. We have a new position on the board, the VP of Industry Relations, and we are very proud to have in this position, Dr. Matthew Salois, Chief Economist with the American Veterinary Medical Association. We will be opening the VP of Government Relations, currently accepting nominations. Our meeting in Seattle, From Local to Global: Innovative Strategies for Changing Food Distribution Networks, was a success. To highlight, was the Student Marketing Challenge competition, with 7 outstanding teams. Dr. Tatiana Drugova, recipient of the Richardson-Applebaum Scholarship Award, her PhD dissertation entitled, "The Organic Wheat Market: Three Essays on Pricing, Consumer Segments, and the Importance of Labels." Our gratitude to Dr. Kathy Kelley, VP of Education, who diligently led this effort. Also, we extend our sincere congratulations to Dr. Clint Neill for being awarded the Patrick J. Byrne Emerging Leadership Award and Dr. Kynda Curtis, for the Frank Panyko Distinguished Service Award. This past year, the plenary sessions hosted outstanding panels on trade and transportation. The meeting also hosted two break-out sessions with research update presentations. Finally, the Journal of Food Distribution Research with two new editors, Dr. Margarita Velandia and Dr. Andrew Muhammad is becoming more established as a reliable means to communicate applied research in food supply chain and marketing, among other issues. I extend an invitation to FDRS members and non-members to submit your research to our journal.
We yet have challenges in the horizon, but our board is poised with the energy and the genuine intention to strengthen and advance our organization, with the same enthusiasm our members have displayed for 50 years. Given the ongoing pandemic situation, the 2020 FDRS meeting will be held online. Please check our meeting website for more details.
FDRS Food Marketing Challenge Student Reviews
See what students have to say about their Food Marketing Challenge experience at the annual FDRS Conference.
(Swipe left for more reviews.)
The FDRS case study competition allowed me to showcase all of the information that I had learned in my classes, while enhancing my understanding of numerous concepts. Being a member of the UK team helped me to grow my professional network, gain experience in solving complex issues, and learn how to work with a team. I can say with full confidence that the FDRS case study competition is the most beneficial academic program I participated in while attending the University of Kentucky.
The FDRS case study competition is the most beneficial academic program
Participating in the FDRS case study competition was the highlight of my Senior year. Having a chance to meet students from colleges across the country with similar degree aspirations and interests was a neat experience. The FDRS society did a great job in planning out several field trips for all of the students and staff, making the trip unique to the locale to provide a hands on and visual learning opportunity. On top of that the event incorporates critical thinking, problem solving skills, and presenting in front of an audience, all of which are all crucial skills for life beyond being an undergraduate. The competition also provides something interesting and recent to talk about with future potential employers during interviews after graduation. Overall, participating in the FDRS case study competition was a very positive experience and I would recommend taking advantage of the opportunity to everyone.
The FDRS case study competition was the highlight of my Senior year
The Food Distribution Society Competition was a great experience. We met and hung out with students from other universities and we networked with a few industry professionals who talked with us on an equals instead of feeling like it was a job interview the whole conversation. The competition made us think quick on our feet and create out of the box marketing ideas.
The competition made us create out of the box marketing ideas
FDRS allowed me to step outside of the classroom and work with my fellow students to create something useful for our client.  It tested our time management and collaboration skills and was a great opportunity to showcase all the knowledge we gained in class.
FDRS allowed me to step outside of the classroom
FDRS was one of the most rewarding academic events we could have participated in! Our team was able to use the information we learned in the classroom and apply it to the challenges at hand. Each of our teammates brought forward strengths that we learned inside  and outside of the classroom at CSU. FDRS allowed us to build on and learn new skills that will help us going into our future careers-that may be with FDRS members and organizations! 
FDRS was one of the most rewarding academic events
Collaborating with a team to solve real marketing problems for a client was one of the most rewarding parts of participating in FDRS. 
Collaborating with a team to solve real marketing problems