55TH ANNUAL CONFERENCE OF
THE FOOD DISTRIBUTION RESEARCH SOCIETY
NOVEMBER 1-4, 2014 | SALT LAKE CITY, UT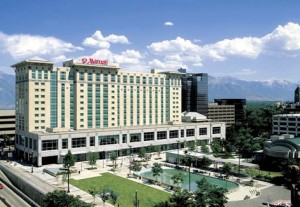 2014 Tour Information
Monday 12-5:30 pm (All include a box lunch)
1. Mormon History and Welfare Square: Temple Square, Tabernacle, and Welfare Square (food and clothing distribution center for emergency relief)
2. Agritourism and Food Tourism Experiences  (60 miles south of SLC) : Lehi Roller Mills, Young Living Farm, Rowley's Red Barn, and Cornbellys Maze
3. Taste of Cache Valley Local Foods (80 miles north of SLC): Cox Honeyland, Gossner Foods, Slide Ridge Honey, Cache Valley Cheese, and Central Milling
Conferences of the Food Distribution Research Society are known for a high degree of industry interaction and plenty of opportunities for networking in an inviting and collegial atmosphere. We strive to provide great value for the attendees through the inclusion of banquets and receptions and the selection of choice properties.
FDRS holds the annual conference at a different site chosen by the officers and board each year.
If you would like to be considered for hosting the annual conference, send a request for more details to Mike Schroder through our contact form by clicking here.
FORTHCOMING
2015 Philadelphia, PA
2016 Southern California